Congratulations to Natalie Cure (JH) and Enedina Gonzalez (HS) on being nominated by our staff for Student of the Month for October! We are very grateful for the leadership that these ladies show at such a young age! #CowgirlStrong 💪

Cowboy Information for the week of 11-7/11-12: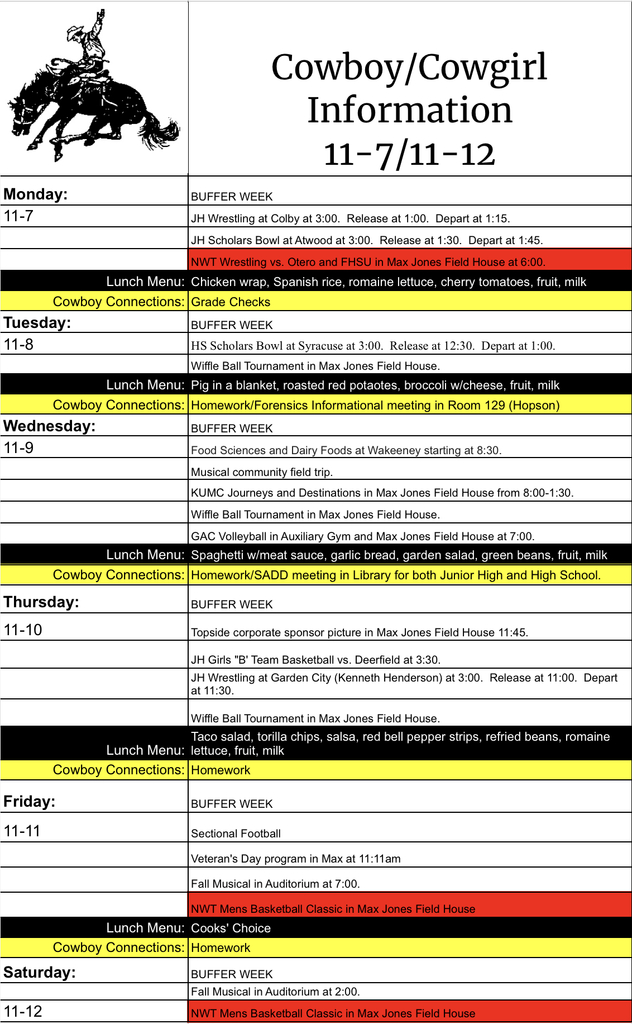 GWAC All-League Football: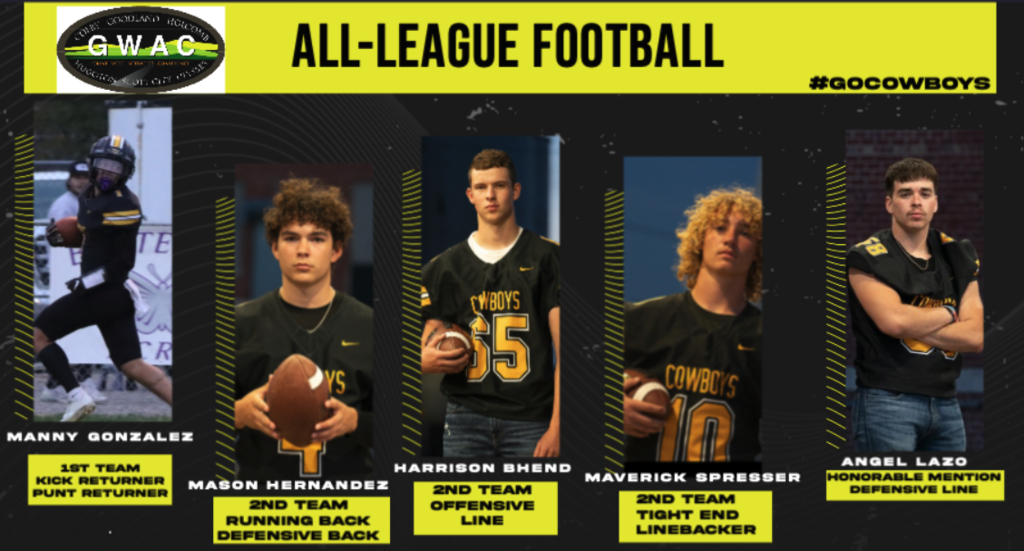 The Rawlins County Dental Clinic will be coming to our district soon. If you would like your child to participate in their program you may pick up a consent form in the front office or find one on the district website. Please fill this out and return it as soon as possible.

Schedule for 7th grade basketball here in Goodland tomorrow. All games begin at 9:00 Mountain Time!! Go Cowgirls!!!


Schedule for 8th grade basketball in Hugoton tomorrow. All games begin at 9:00 Mountain Time!! Go Cowgirls!!!


GWAC ALL-LEAGUE: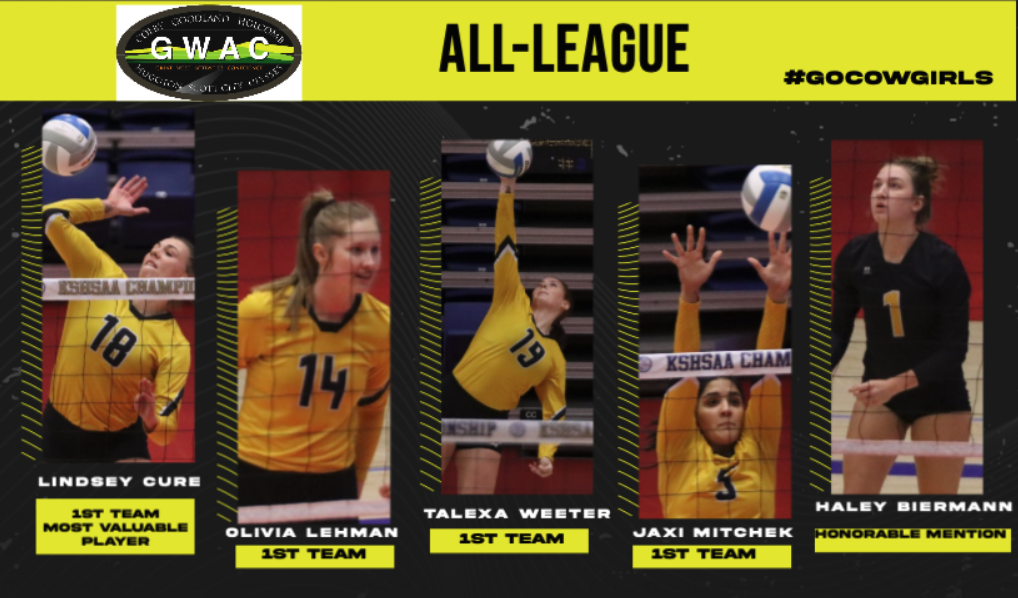 Congratulations to Ms. Pollart for being voted Educator the Month for October. We appreciate the relationships that you build with students everyday. Enjoy the $10 gift card from our friends at Sonic! 🍔

Senior Citizen Dinner:


Information for our musical next Friday and Saturday:
The Josten's rep will be here tomorrow for sophomore ring orders, and also senior graduate packages during CC period. Information from Josten's will be sent home at that time too, so be looking for it!

Cowboy Information for the week of 10-31/11-5.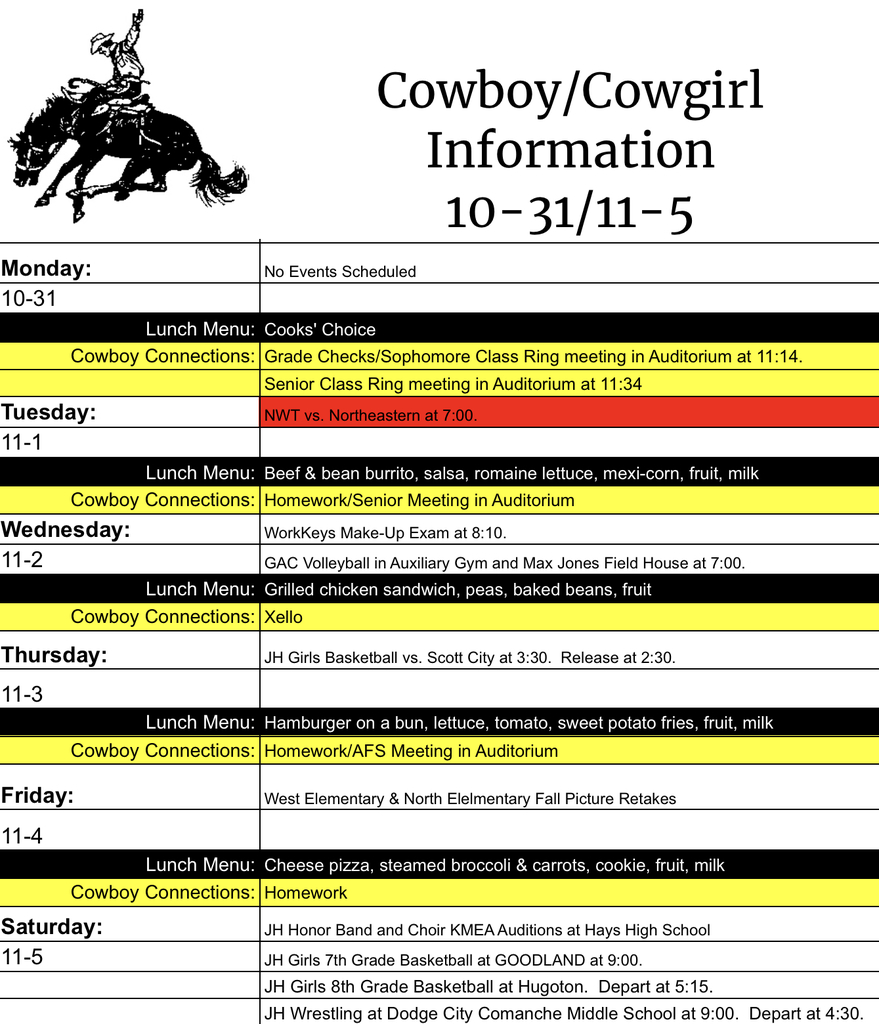 A reminder that students are welcome to dress up for Halloween tomorrow at GSJH. Please note that: -Learning will still take place. -GJSH Dress code still applies. -All costumes must be in good taste and not overly disgusting or gory. -Staff can ask any student to remove an item or mask while in the classroom. -Prizes will be given to the top 3 best dressed! We are looking forward to a great day!

Cowgirls fall in game 2 22-25. Fall to 1-2 on the day. Season ends with a record of 37-5.

Goodland falls to Riverton in game one 25-23.

Goodland falls in game 2 15-25. Goodland loses match 0-2 games.

Goodland falls to Heritage in game one 18-25.

Goodland defeats Eureka in game two 25-18. Sweeps match. Go Cowgirls!!!